The Ugly Sandals Birkenstocks take on Wall Street
When we mention ugly sandals, what springs to your mind? Is it CROCS for some of you? Or perhaps Balenciaga for others?  Drawing from the sentiments expressed in the Barbie movie, the sandals labeled as "normal" or "ugly" are, in fact, Birkenstocks. What astonishes me about Birkenstocks is their enduring legacy spanning over 250 years. What makes this footwear stand out? How has it managed to remain relevant through countless decades and even centuries, continuously capturing attention in our rapidly evolving fashion landscape?
The Early Roots of Ugly Sandals: Crafting Comfort in a German Village
The origins of Birkenstocks can be traced back to a quaint German village named Langen-Bergheim in the late 18th century. Johann Adam Birkenstock, a local cobbler, founded the brand in 1774. Initially, the brand was synonymous not with the iconic sandals we recognize today but with orthopedic footbed insoles. Johann's innovation laid the groundwork for future advancements, creating a foundation for the brand's legacy in foot comfort.
Innovations and Breakthroughs: The Rise of the Contoured Footbed
The legacy of Johann was carried forward with fervor by subsequent generations. His grandson, Konrad Birkenstock, unveiled a groundbreaking innovation in 1897: the first flexible arch support. Designed to be inserted into factory-made shoes, this innovation redefined footwear, emphasizing that shoes should adapt to fit the human foot's natural shape. By the dawn of the 20th century, the Birkenstock family had begun manufacturing these flexible orthopedic inserts on a larger scale. In 1902, Konrad further evolved the brand by developing the prototype for the first flexible deep footbed, setting the stage for the iconic contoured insole.
The birth of Ugly Sandal that Defined Generations
The world had to wait until the 1960s to see the first-ever Birkenstock sandal. Karl Birkenstock, Konrad's visionary grandson, combined the family's orthopedic knowledge with contemporary design, giving birth to the sandal featuring the now-iconic contoured cork footbed. This design resonated with the masses, and by the late 1960s and early 1970s, it became emblematic of the counterculture movement. The U.S. market, in particular, embraced Birkenstocks during the 1970s, transitioning the brand from a health-centric niche to mainstream fashion. Today, after more than two centuries, Birkenstock remains a symbol of dedication to craftsmanship, ergonomic design, and timeless style.
Embracing Modern Leadership
As the 21st century dawned, the Birkenstock brand underwent notable transitions. After Karl Birkenstock's retirement in the early 2000s, the leadership mantle was assumed by his three sons: Christian, Stephan, and Alex. Their varied perspectives led to the creation of competing product lines and subsidiaries. This fragmentation culminated in 2013 when Christian and Alex acquired Stephan's stake and made a strategic pivot: they enlisted outsiders Markus Bensberg and Oliver Reichert to helm the company. Their combined leadership, despite not being steeped in the fashion world, was instrumental in reshaping the brand's trajectory. Under their stewardship, the BIRKENSTOCK Group was founded, leading to unprecedented sales growth and brand prominence. By 2021, the brand celebrated a landmark year, prompting co-CEO Markus Bensberg's decision to step back and elevate Oliver Reichert to the position of sole CEO.
The Ugly Sandal Elegant Turn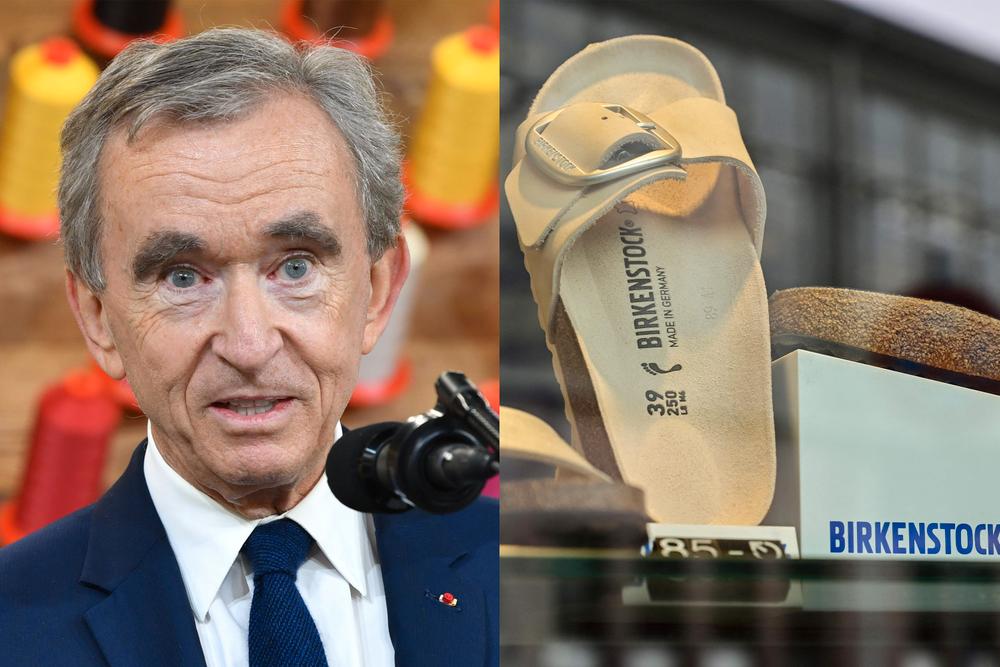 In an unexpected twist during the pandemic, Birkenstock entered the luxurious realm of high fashion by selling a majority stake to L Catterton, an equity firm closely aligned with the eminent luxury group, LVMH. This audacious move was initiated by Oliver Reichert, who, not one to waste time, dialed up LVMH's spearhead, Bernard Arnault. The swift negotiations, as recounted by Reichert in a chat, concluded in just six weeks.
Elevating its fashion credentials further, Birkenstock unveiled an exclusive collaboration with Dior, an iconic brand under the LVMH umbrella. This union brought forth exclusive sandals, retailing at a plush $1,100 each, through Birkenstock's luxury 1774 collection. But Dior wasn't the sole elite name in fashion to align with Birkenstock; illustrious labels like Manolo Blahnik and Rick Owens also jumped on board. These partnerships not only elevated Birkenstock's fashion status but also introduced the brand to an entirely new demographic of discerning customers.
Yet, amid the escalating fashion frenzy surrounding the brand, especially with its iconic clogs declared as 2023's summer staple and a stylish appearance in Greta Gerwig's Barbie movie, Reichert remains unfazed. He's not one to woo celebrities with free pairs or chase every brand collaboration opportunity. In fact, he claims to turn down most of them. As he succinctly put it to Glossy,
"We're the only 'fashion' brand that is not defined by fashion. We do not chase trends."
As BIRKENSTOCK gears up to cater to surging global demand, it has staunchly maintained its roots in German craftsmanship. This commitment is manifested in their advanced production facility located in Pasewalk, northeastern Germany, where a whopping 95% of their production takes place in Germany. This harmonious blend of upholding tradition while embracing innovation ensures the brand's age-old mission of walking in natural harmony remains relevant and resonant in our ever-evolving world.
Preserving Legacy While Innovating
Amid the changes in leadership, BIRKENSTOCK's foundational principles have steadfastly remained. The groundbreaking footbed concept introduced by Konrad Birkenstock in 1902 still anchors the brand, encapsulating the 'Naturgewolltes Gehen' philosophy or walking as nature intended. Branching out from their footwear forte, BIRKENSTOCK has extended this principle into new areas like SLEEP SYSTEM, providing an anatomical bed that aligns with their footbed's supportive design. In a surprising twist, the brand also ventured into the beauty realm with BIRKENSTOCK NATURAL SKIN CARE. And yes, you read that right: SKIN CARE. This range emphasizes holistic well-being, integrating natural elements such as cork, mirroring the elasticity and comfort of their famed footbeds.
Birkenstock's Winning Streak: The Numbers Speak
Since 2014, Birkenstock has experienced a robust 20% Compound Annual Growth Rate (CAGR). In 2022, they achieved a significant milestone, surpassing 1 Billion Euro in sales and recording a full-year revenue of 1.24 Billion Euro. While their revenue has consistently grown each year, the company did face a dip in 2020 due to the COVID-19 impact. Impressively, Birkenstock boasts a Gross profit margin of over 60% and an EBITDA margin of 30%. Furthermore, their revenue for the first nine months of 2023 has already seen a 21% increase compared to the same timeframe the previous year. Adding to their list of achievements, Birkenstock went public with an IPO on 11th October 2023, priced at $46. This IPO successfully raised around $1.48 billion based on the 32.3 million shares sold, valuing the company at an impressive $9.3 billion.
Birkenstock's Financial Outlook: A Comparison in Valuation
With their ongoing strategies and innovations, Birkenstock projects a mid to high teens growth while aiming to sustain their current gross profit and EBITDA margins. When considering their IPO valuation at $9.3 billion and the prorated 2023 sales estimate of approximately 1.56 Billion Euro, the company's Price-to-Sales (P/S) ratio is about 6x. In comparison, industry peers like Nike, CROCS, and On Holding have P/S ratios of 2.98x, 1.31x, and 4.33x respectively. This notably higher valuation for Birkenstock might explain the pressure on their share price during the initial trading day.
Exercising Caution: A Look at Birkenstock's Investment Landscape
While Birkenstocks boasts a rich history, strong backers like LVMH, and impressive financial performance, every investment carries inherent risks. It's crucial to remember that business dynamics can change, potentially affecting our investments. Drawing from industry benchmarks, companies like Allbird and Dr. Marten have witnessed significant value erosions, losing more than to 90% and 70% respectively in under three years since their IPO. Therefore, when considering IPOs like Birkenstock's, prudence and comprehensive analysis are essential.
Not Conviced by Ugly Sandals, How about Dad Shoe? Find out more here